Mittellanger Spielfilm / Fiction
Der 25-minütige Science-Fiction mittellange Spielfilm "Nucleus", erzählt die Geschichte von Falk Marna, einem Wissenschaftler, der eine Möglichkeit entdeckt, menschliche Handlungen vorherzusehen. Doch seine Erfindung bleibt kein Geheimnis und schließlich verfolgen bedrohliche Kräfte den Wissenschaftler. Schafft Falk Marna es, ihnen zu entkommen und die Formel geheim zu halten?
Produziert von der Blickfänger GbR, wurde der Film an Dortmunder Drehorten wie dem Dortmunder U und dem botanischen Garten Rombergpark gedreht. "Nucleus" wird auf nationalen und internationalen Festivals mit großem Erfolg gezeigt.
Nucleus: Festivalerfolge
Festivals
Filmfest Bremen
SciFi Film Festival Sydney
Santa Cruz International Film Festival
Rome Independent Prisma Award
Jaipur International Film Festival
SFAAF South Film and Arts Festival
CEIFF Ciudad del Este Independent Film Festival
Magic Mystery Film Festival
NNF Near Nazareth Film Festival
Festival Cinematográfico de Mérida, Mexico
BIFF Bayamón International Film Festival, Puerto Rico
ARFF Barcelona // International Awards
ARFF Amsterdam // International Awards
Red Rock Filmfestival Utah
Viff Vienna Independent Film Festival
Philip K. Dick Filmestival Lille France
Ataff Alexander Trauner Art Film Festival
Flickers' Rhode Island International Film Festival
Wildsound Feedback Film and Screenplay Festival
Anatolia International Film Festival
Aab International Film Festival
Tokyo Lift-Off Film Festival
Pune Short Film Festival
Paraná Internacional Films Festival
Sliff Online – Presented by St. Lawrence International Film Festival
Trujillo International Independent Film Festival
The Indie for You Film Festival
Best Drama on Moviescreenpro Film Festival
Bahia Independent Cinema Festival
Awards
Idniex Film Festival Los Angeles USA / Award Winner
Paris Play Film Festival / AWARD: Best Poster Design
EXPRESSION ART MOVIE FESTIVAL / AWARD: Best Short Film
LEGENDARY SHORT FILM FESTIVAL / AWARD: Legendary Sci-Fi Thriller
SOUTH FILM AND ARTS ACADEMY FESTIVAL – SFAAF / AWARD: Best Thriller Shortfilm
THE MAGIC MYSTERY FILM FESTIVAL /Award: Best Mystery Thriller
Asian Cinematography AWARDS (ACA) / Award: Best Cinematography of a Short Film
Moody Crab Film Fest India / Season 4 / AWARD: Best Sci-Fi Short
Best Global Shorts / Judge's Special Mention
CELEBS Indonesia /Award: Best Newcomer Filmmaker
Fantastic Film Festival /AWARD: Best Psychological Drama
FIFF London Falcon International Film Festival / Award: Best Cinematography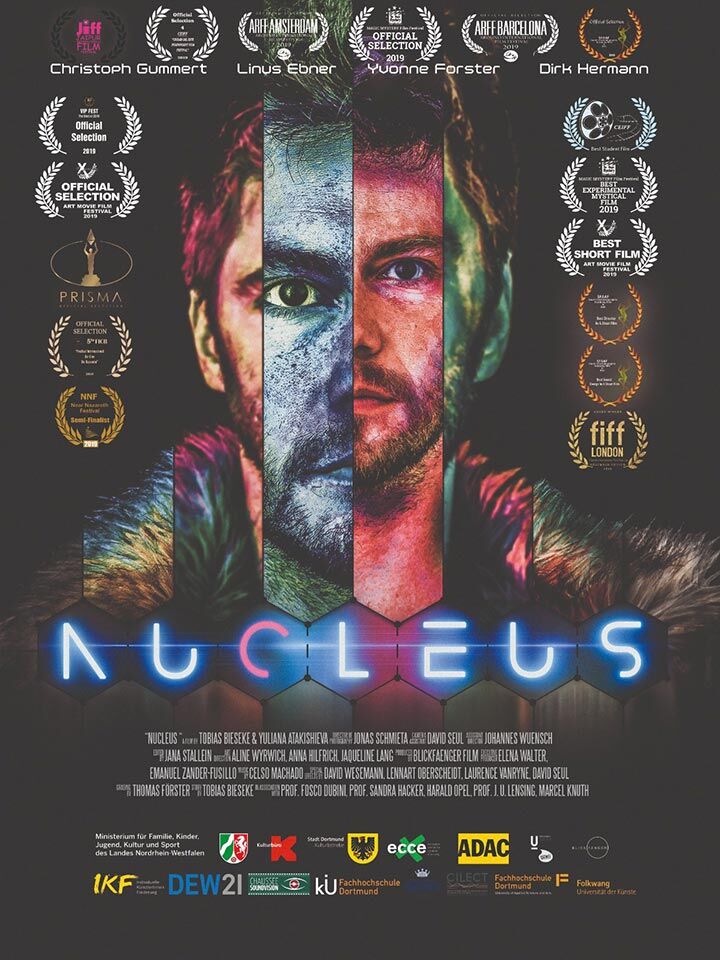 Regie: Tobias Bieseke, Produktion: Emanuel Zander-Fusillo, Elena Walter.
Cast: Christoph Gummert, Yvonne Forster, Linus Ebner, Dirk Hermann.
Weitere Informationen zu Nucleus finden Sie zum Beispiel auf der Internetseite der ecce GmbH, dem european centre for creative economy, das die Produktion unterstützt hat.